News and Upcoming Events:
Save the date, October 6th!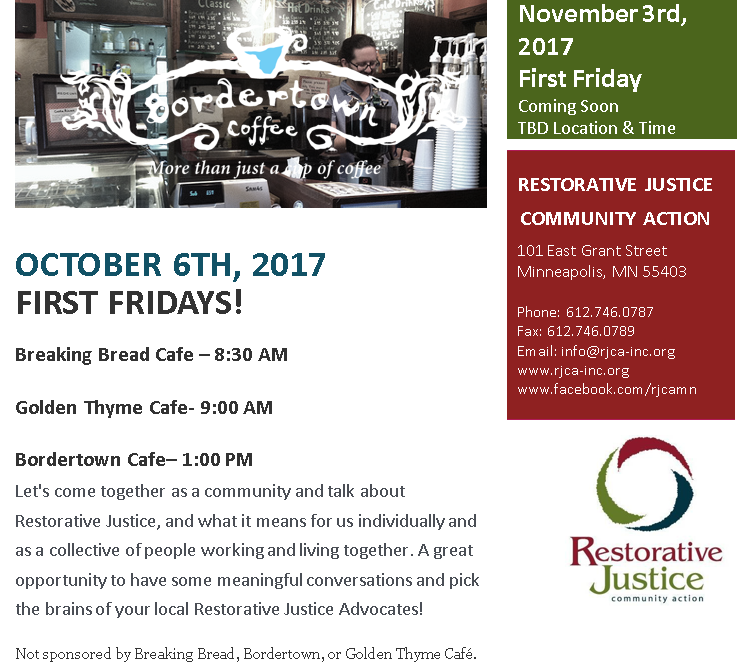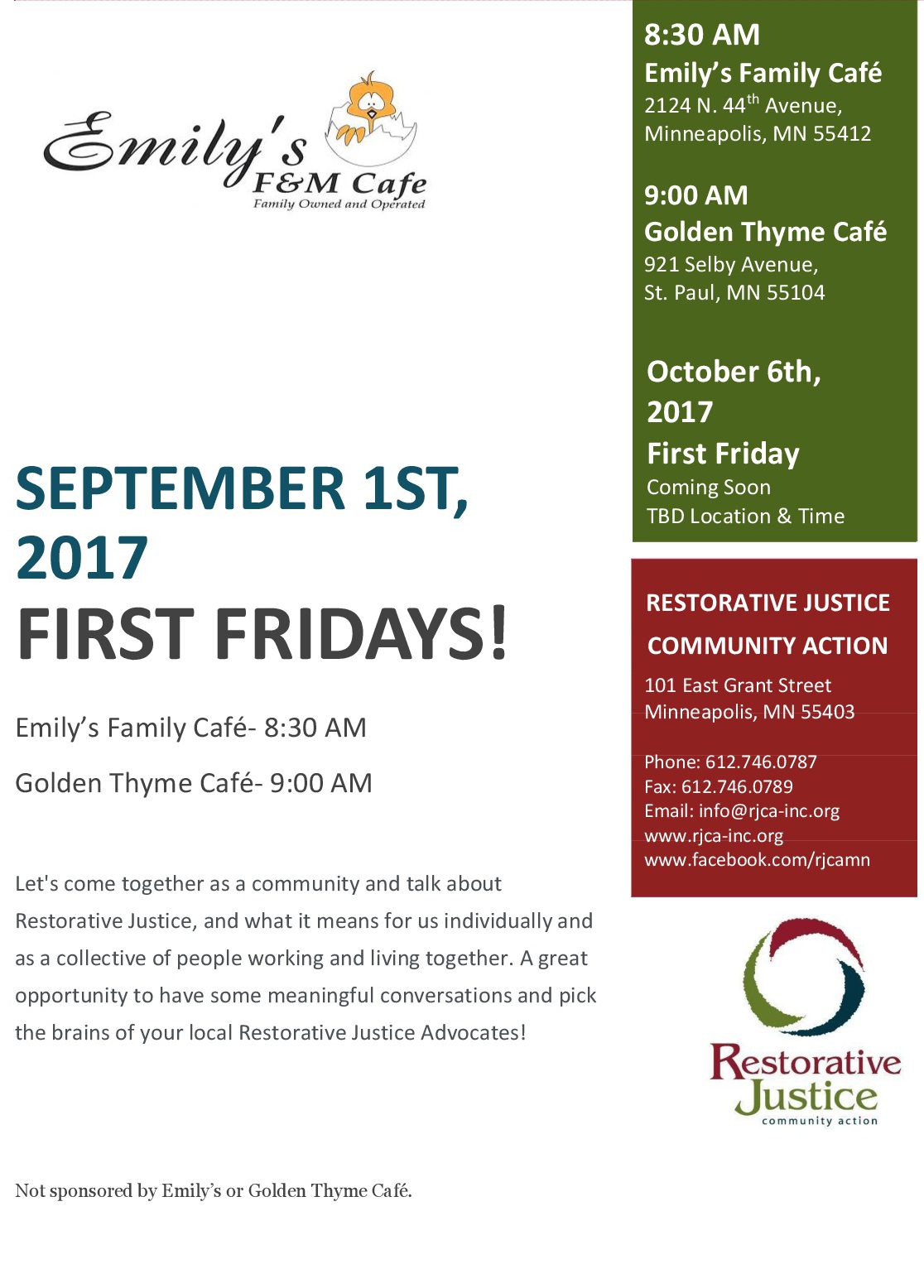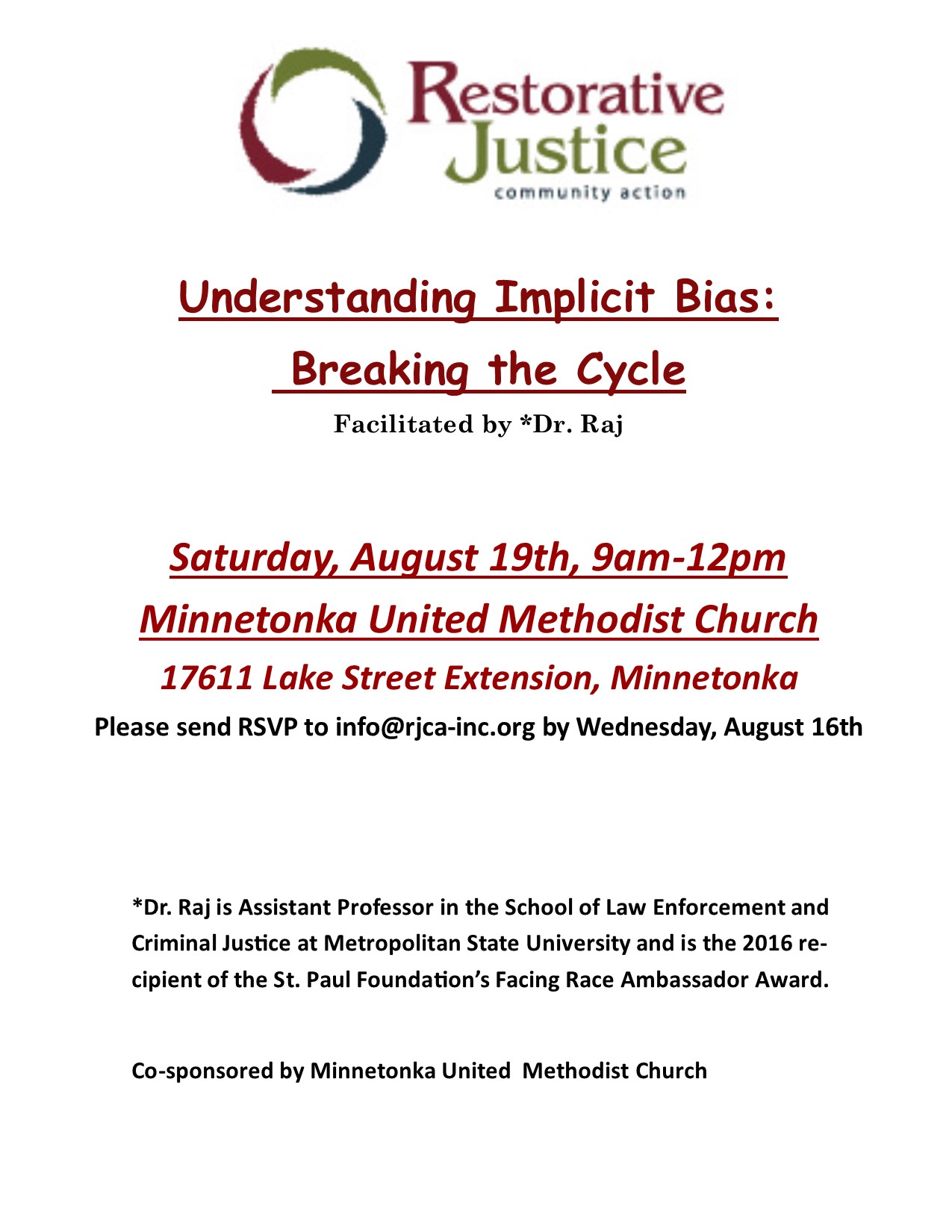 August's First Friday!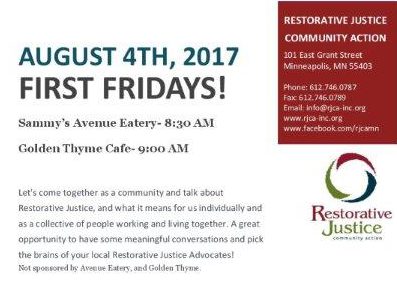 Due to scheduling conflicts, this event has been canceled.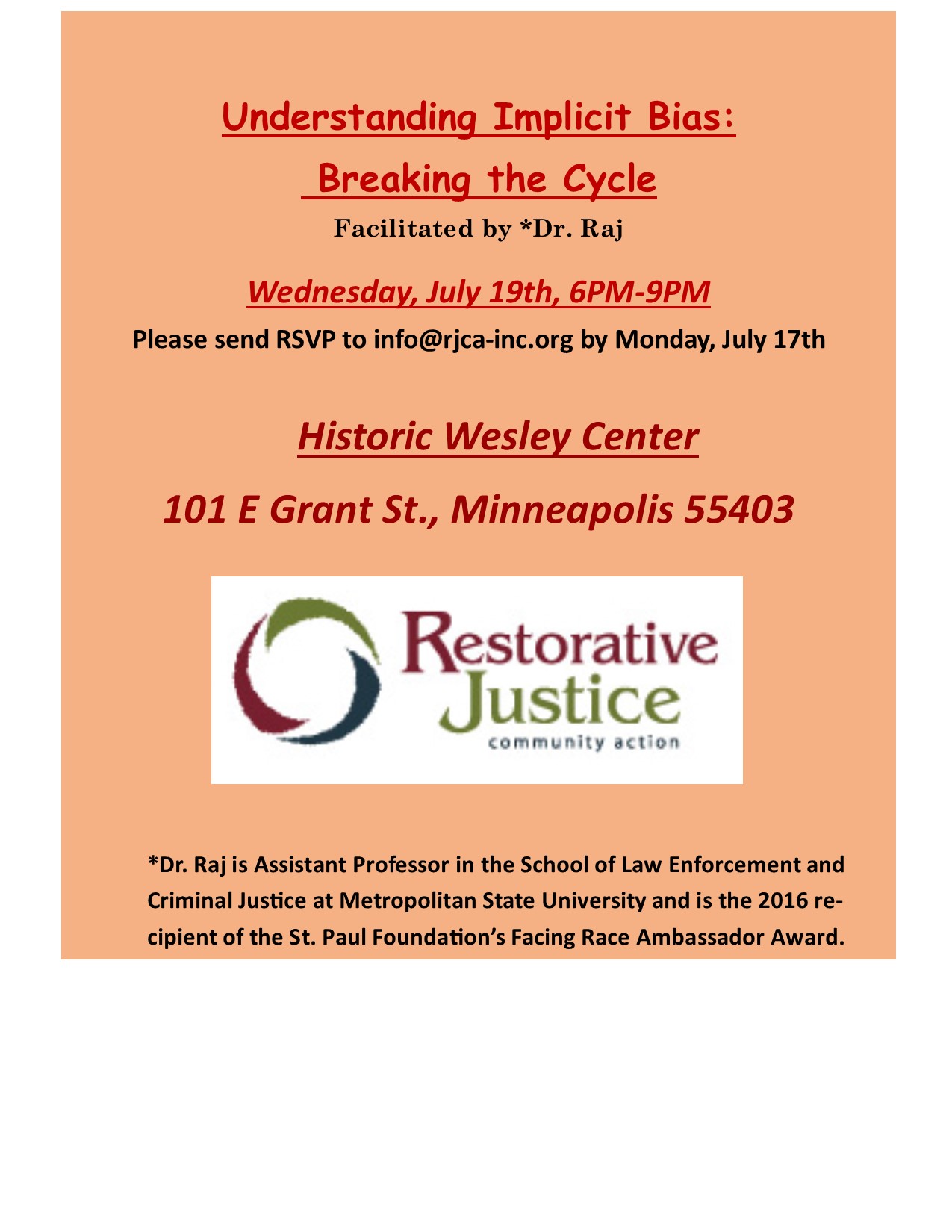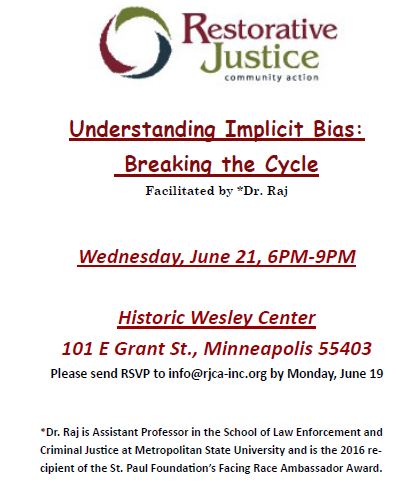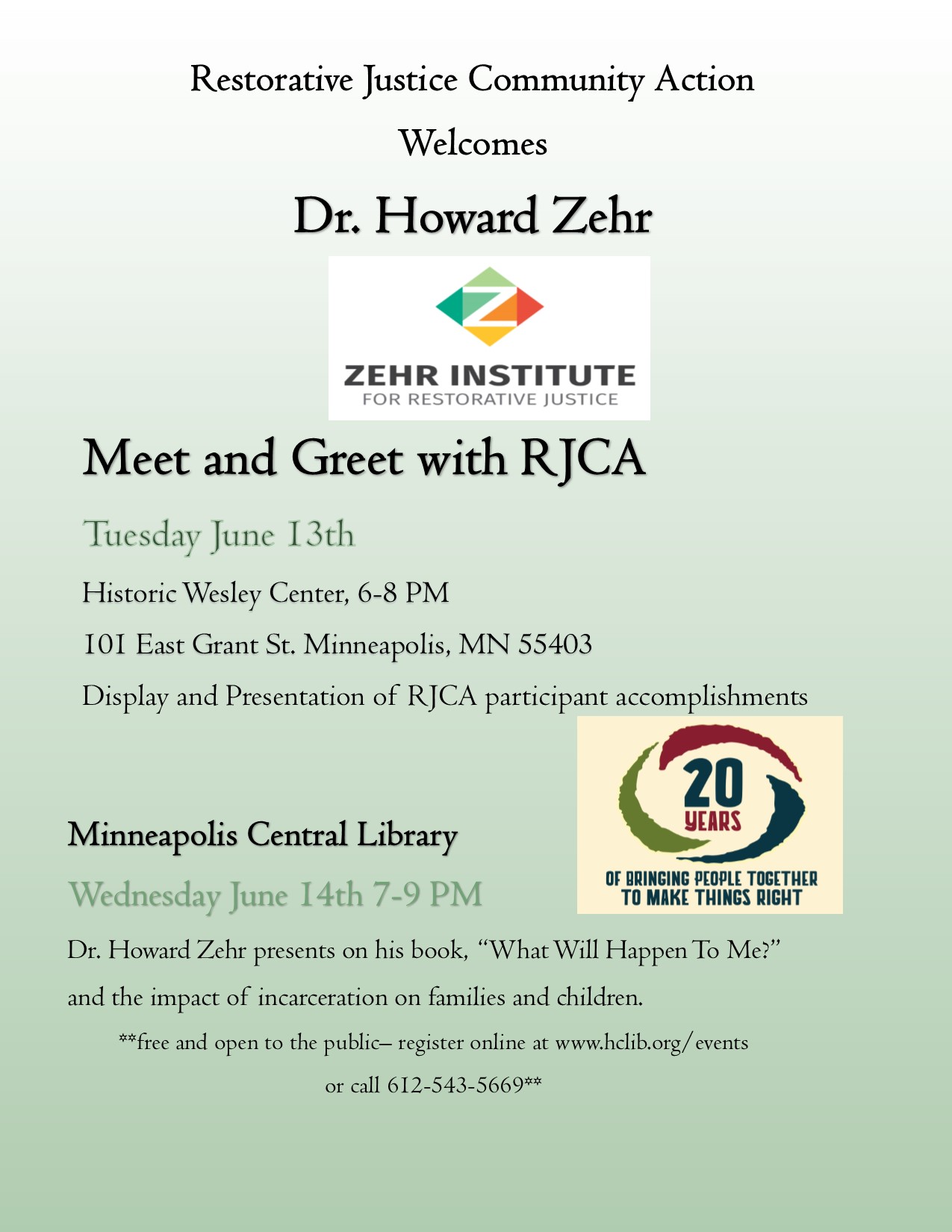 Come and join us in welcoming Howard Zehr and check out a youth gallery as well!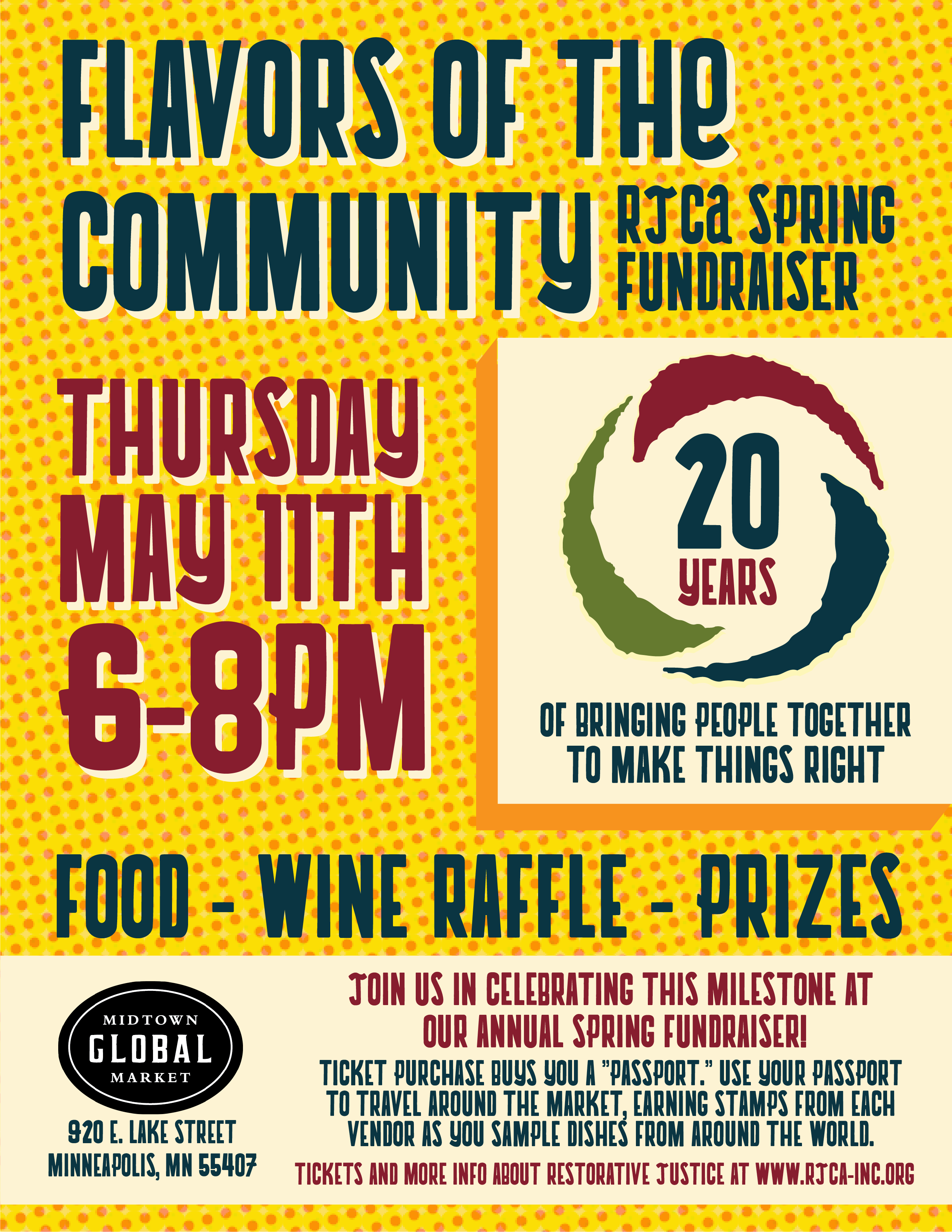 Raffle tickets to win an adult prize basket. a youth prize basket, and wine will be sold during the event.
Click here to  purchase tickets for our fundraiser.
Dear Friend of RJCA,
In 2017 we will celebrate a landmark in the history of RJCA.  Restorative justice as a way to deal with low-level livability crimes started in the late 1990s in Minneapolis. At that time people in the core downtown neighborhoods were frustrated with the inadequacies of the criminal justice system.  They came together to establish a better, local way to handle these crimes and build their community through restorative justice practices
In 1997 the Stevens Square Community Organization founded the Central City Neighborhood Partnership (CCNP) Community Conferencing.
One year later Powderhorn Park Neighborhood Association (PPNA) launched the Midtown Community Restorative Justice (MCRJ) Restorative Panel program to address similar crimes in the Midtown neighborhoods of Minneapolis.
Twenty years later CCNP and MCRJ together have grown into RJCA, which now works throughout Hennepin and Ramsey Counties to bring people together to make things right. In that time RJCA community members have met face-to-face with over 4,400 referred participants addressing their cases, with a successful completion rate of 90%, and 98% participant satisfaction rate.
As I reflect on my experience with RJCA, I am inspired by the stories of how we have positively affected our community.  As we prepare to mark our 20th anniversary in the fall, I'm reaching out to you to share some of those stories, and to celebrate our successes and recognize our committed volunteers.  (Let me know if you have a story you would like told and I'll tell in one of my letters or we'll post it on our Facebook page.)
In closing I want to thank you for your continued support.  Your contributions of time and money allow RCJA to continue and grow as an organization.  And as I look to 2017, RJCA is very relevant.  I am convinced that through restorative justice practices we can come together to repair harm and build strong communities.
Sincerely,
Cynthia  Prosek
---
---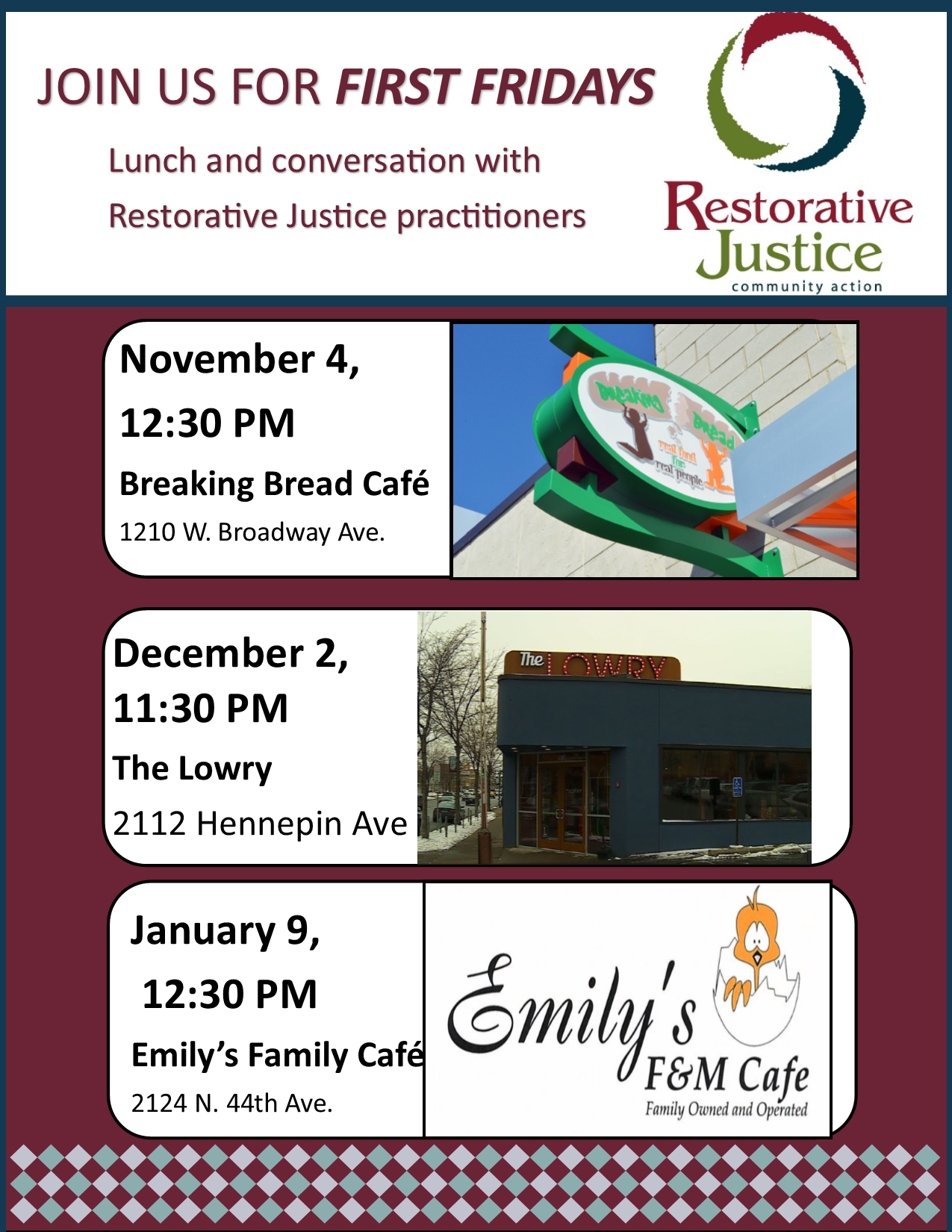 RJCA's Annual Report from FY2016 has arrived! Check it out: Annual Report 2016
---
Weekly Quotes:
---
"I would let folks know who are in a position similar to mine that the RJCA program will bring people who will help you be a mentor, and a better person. Staying positive and being an impact in my own community was my own personal benefit from this process. Thank you very much to all those that participate in the RJCA program!"
-Past RJCA Participant
"RJCA's program served a good conversation for the purpose of growth rather than shame. I found a good charity with good people to give my time to each week. I got more out of this than expected, and would not want to change anything about my experience here."
-Past RJCA Participant
---